Omni 402 – LTE/WiFi
L'antenna OMNI-402 è un'antenna a banda ultra larga, che copre contemporaneamente tutte le frequenze operative LTE con un eccellente guadagno, mentre elementi radianti separati verticalmente garantiscono la funzionalità 2x2 MIMO, tutto nello stesso case. OMNI-402 è una vera antenna MIMO omnidirezionale ad alte prestazioni, adatta per applicazioni marine e costiere. Utilizzabile in tutte le parti del mondo, OMNI-402 garantisce la ricezione del segnale quasi ovunque. Le antenne Poynting raggiungono questo risultato grazie alla nuova configurazione dell'antenna che utilizza più dipoli e una rete di alimentazione esclusiva (brevettata). L'antenna è a prova di futuro in quanto copre la frequenza LTE a 450 MHz diventando sempre più popolare in varie regioni e paesi!
Perché scegliere un'antenna Omni 402 – LTE/WiFi ?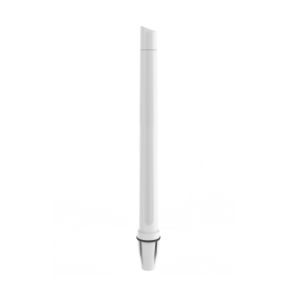 2×2 MIMO (2 ports) in a single  enclosure for simplified implementation
Covers the contemporary 698-2700MHz LTE bands as well as the 450-470MHz band
This antenna also supports the Wi-Fi/WiMax/LTE 3.3GHz- 3.8Ghz frequencies
Easy mounting with feed through 1 inch marine standard mounts
Robust and All weather proof (IP 68)
UV and Saltwater protected against tempestuous weather conditions.